Dental Implants in Joplin MO
Permanent Tooth Replacement Options
A natural tooth consists of a root and a crown. If you compare natural teeth to implant-supported replacement teeth, you'll see they have the same basic parts. Both have a crown (the visible part used to chew food). Both have a root that holds the tooth securely under the gum and is anchored into the jaw. The difference is that the implant is made of titanium – the same time-tested material used by surgeons for artificial joints.
When you lose a tooth, you lose both the root and the crown. To replace the tooth, the surgeon first replaces the root with a small dental implant.
---
Time is allowed for bone to heal and grow around the dental implant. The bone bonds with the titanium, creating a strong foundation for artificial teeth.  A support post (abutment) is then placed on the implant and a new replacement tooth (crown) is placed on top of the abutment. In many cases, a temporary replacement tooth can be attached to the implant immediately after it is placed. If all of your teeth are missing, a variety of treatment options are available to support the replacement teeth.
---
Are You Ready to Restore Your Smile?
Don't settle for missing teeth! Dental implants are natural-looking replacement teeth that can renew your smile. Contact us today to learn more!
Dental Implants: Collaborative Procedure
Using the most recent advances in dental implant technology, Dr. Burnett and Dr. Bays are able to place single-stage implants. These implants do not require a second procedure to uncover them but do require a minimum of six weeks of healing time before artificial teeth are placed. There are even situations where the implant can be placed at the same time as the tooth extraction – further minimizing your number of surgical procedures.
Dental implant placement is a team effort between an oral and maxillofacial surgeon and a restorative dentist.  Drs. Burnett or Bays performs the actual implant surgery, initial tooth extractions, and bone grafting if necessary.  The restorative dentist (your dentist) fits and makes the permanent prosthesis. Your dentist will also make any temporary prosthesis needed during the implant process.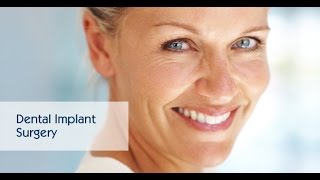 "Don't be afraid to Smile."
For years I'd felt like a part of my body was missing — because my teeth were. My dentist told me that dental implants would make me feel and look a lot better. OK, I said. Now, I'm thrilled. I can smile, eat anything, and enjoy a good laugh with my friends.
Oral & Facial Surgery Center of Joplin
5
out of
5
stars based on
22
Dental Implants reviews.
---
Our Latest Patient Testimonial
I had some problems with my teeth from a previous Dentist. It was going to take someone special for me to regain my trust with another Oral Surgeon.. Dr. Burnett assured me from the beginning he would take care of me and my teeth. I have 5 dental implants some with bone grafts and in my opinion he is one of the elite oral surgeons in the country. Dr. Burnett explains the process in length, and you know he takes pride in his profession and wants you to have the best experience and outcome.
- Kimbra T
5

out of

5

stars
by
Kimbra T
on
Our Latest Patient Testimonial
Excellent staff and physician. Highly recommend their office.
- Jill O
5

out of

5

stars
by
Jill O
on